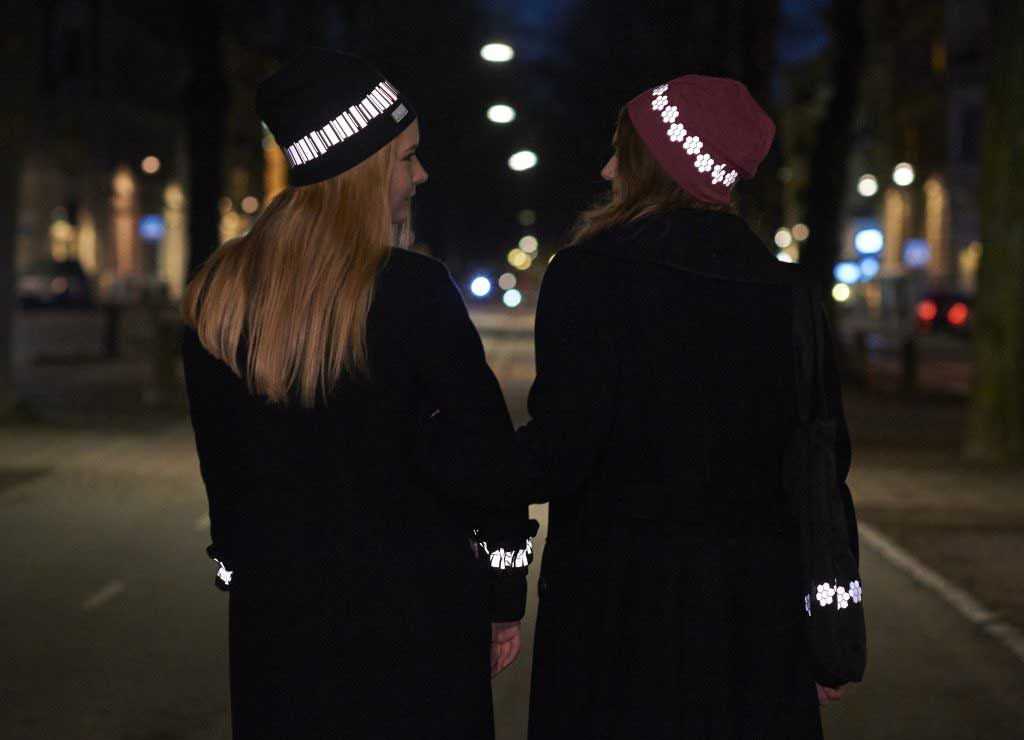 Today, we find ourselves spending time both in town and in the countryside. Many pedestrians, cyclists and joggers use smartphones to talk or listen to music. The risk of being involved in an accident increases, because we are distracted or completely lose two of our most important senses; vision and hearing. We therefore believe that reflective gear for running is even more relevant in 2021.
It is not new that people can be vane. We are flooded by the media telling us that reflectors save lives, however it is only a fraction of the population that use reflectors in the north. Vanity governs us and we want to look fashionable when we're out and about. At Smart In The Dark we design and develop products to wear fashionably at work or during our leisure time. We want people to wear our reflective gear for running with pride and at the same time feel safe.
By wearing visible reflective gear for the risk of being involved in an accident is significantly reduced. 40% of all car accidents involving pedestrians occur in the dark in the urban area. Street light helps you look, but you cannot see everything. A dark face only appears when we are about 30 meters away. With reflective gear we can be seen at least 125 meters away and by wearing reflective gear for running on moving parts such as arms and legs we can increase safety further. It can be difficult for a pedestrian to understand how difficult it is for a motorist to see them dressed in dark colors. It's usually when you get behind the wheel and drive in the dark that it becomes obvious how bad visibility is.
Smart In The Dark products make you visible from at least 125 meters compared to 25 meters in dark clothes and 60 meters in light clothes. Research have shown that night vision, rush hour and impaired drivers are some of the risks we face when we are in the streets at evening. According with Injury Facts, more than 40,000 people were killed in car crashes in 2016. A car travels at 19 meters per second at a speed of 70kms an hour therefore our products make a very big difference to the driver as they spot you and slow down to overtake.
Reflective material
We work with 3M, a market leader in reflective material. All reflective gear accessories are tested at SP in Sweden and certified according to EN 13356 (personal reflections). A certification means that the material is examined and tested to meet the same requirements as the standard requires. For example, the reflector continues to reflect even when wet. The material which the Smart In The Dark reflectors are made of is also approved for safety attire. It also means that they can be washed. They are also tested so that the reflectors reflect light back into the spotlight and not elsewhere.
We have chosen to work with one of the best and safest reflective materials on the market. Our determination was to make an excellent security product and hence we examined both the choice of reflective material as well as the design of the reflectors.
When you move in traffic, you must make sure you are visible from all directions. Carry reflectors on both your right and your left side. Reflectors can also be worn further down on your body to make you more visible and we recommend that reflective beanies are also complemented with any of our other products.