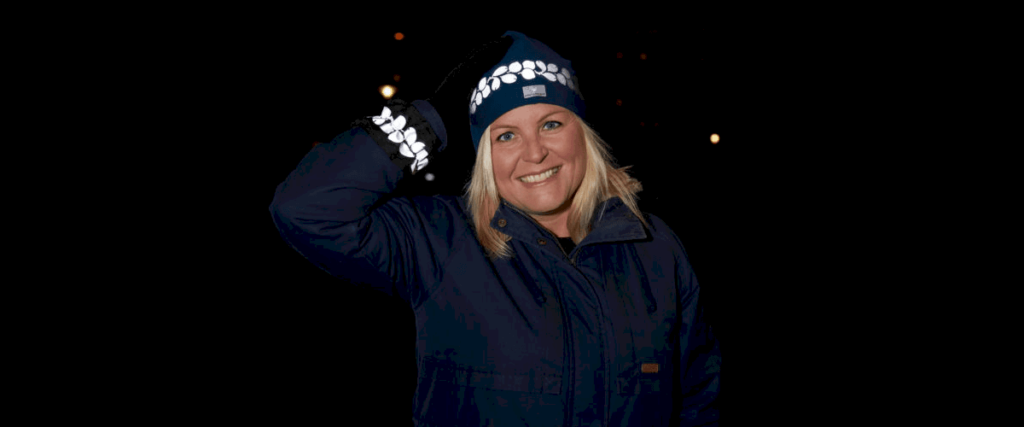 Wear reflective accessories, they can save your life! Terese Lago is a Swedish police officer. She often goes out to visit schools and recreational centres to talk about what it's like to work as a police officer, but her job also includes investigating and intervening, i.e. going on urgent cases to people who need help. For the entire police force, prevention is incredibly important. At Smart In The Dark, we're curious about the preventative work Tess and other police officers carry out in order to stop crimes and accidents on the roads.
The social climate has gotten tougher, do you feel afraid in emergency situations?
– No, I don't actually, you know that you have a job that has to be done and that people rely on it. As a female police officer, you often have a calming effect. We never work alone, and usually on a mixed police patrol, i.e. woman/man. I often think we complement each other well.
"It's important that we adults use reflectors and set a good example!"
You also run the Instagram account Bylingbilder, which is how you got into contact with Smart In The Dark, how did that come about?
– I was sitting and having a look around and ended up on Smart in the dark's account. I love beanies and saw your gorgeous beanies with reflective details. I know how hard it is to be seen on the road when it's dark, and love the idea of reflective beanies. I then saw that you not only have reflective beanies, but a whole collection of reflective products, which I actually needed. I've bought and I am wearing reflective accessories: the reflective beanie and the gorgeous arm reflectors, so now I'm both visible and feel safe in traffic.
Why do you think there are so many people who don't use reflectors?
– Many people who are physically active take care to wear reflective accessories when they're out jogging, but not otherwise. It's the same with dog owners, who put reflectors on the dog but not on themselves. It's strange. Maybe it's vanity that makes you think that you're more visible than you are, particularly in cities. And then there's the fact that reflectors are associated with children, an attitude that we adults need to help change. It's important that we adults are visible too, that we set a good example! This is why it's great that Smart In The Dark have developed stylish reflective products that you really want to wear.
Reflectors save lives. They're a good investment and cheap life insurance."
How would it affect your job if more people could be seen better?
– The accident statistics would decrease, definitely. Reflectors save lives. They're a good investment and cheap life insurance. At every work shift in densely populated areas, I meet people without reflectors who think they can be seen in the light from lamp posts and headlights. But this is unfortunately not enough. Everyone who drives a car knows how difficult it is to detect someone crossing a street, especially during the winter when the road is wet. I want to be called out to fewer road accidents and am a big advocate of using reflectors when it's dark outside.
"I like people to be enlightened and advocate for reflectors as often as I can."
How do we get more people to use reflectors?
– Smart In The Dark are definitely on the right track with their reflective products. Cars, cyclists and not least electric scooters come from all directions and it's important that we can be seen from 360 degrees. Reflectors around moving parts such as arms and legs are really good. I also strongly believe in adult role models and better information about the importance of reflectors and road safety in general. A combination of these should definitely contribute to increased usage and getting rid of any negative connotations.
Who would you like to give a stylish reflector from Smart In The Dark to?
– I would definitely give my mom's a reflector. She's often out and about and I want her to be more visible. One of your reflective scarf will suit her perfectly or your reflectors for bags . But you should of course give a reflector to everyone you care about, says Terese Lago.