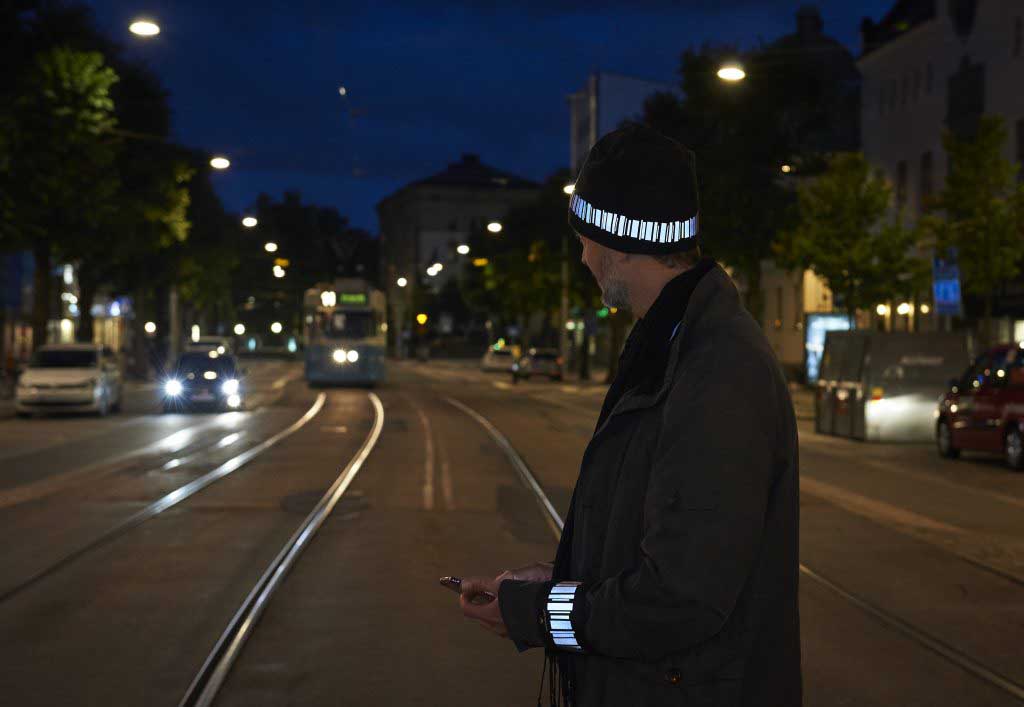 Nowadays, many people's winter and autumn attire is lacking in reflectors. We give our children wearable reflectors but forget the reflectors on our own clothing. Instead, we go out in black winter clothes in the belief that the closest street light will signal our presence to motorists.
In fact, without reflectors, you can first be seen from a distance of 25 metres, which makes it difficult for a motorist to have time to react and stop. We decided to get to the bottom of this life-threatening road situation. Read the interview with Gösta Werner, who participated in developing our high-quality, certified reflectors. Gösta has over 30 years' experience in research on light and reflectors at the Technical Research Institute of Sweden.
Here you have Gösta's four most important tips on what to think about when you choose, use and place your reflector.
1. Choose a reflector of high quality
First and foremost, you have to make sure that the reflector fulfills the applicable quality standards. The reflector must have a CE quality mark. If the reflector is CE-approved, CE will appear on the reflector and/or on its packaging so that you can easily evaluate the product before you buy it.
Even if you get the reflector for free, you should make sure it is quality marked before you use it. Smart in the dark's reflective accessories are CE-marked. They are made of 3M Scotchlite, which is one of the safest and best reflective materials on the market. With Smart in the dark's reflectors, you can be seen in the dark from a distance of over 125 metres.
A quality marked reflector can be slightly more expensive, but at the same time guarantees you as a consumer that the reflector will get you seen.
Unfortunately, the market is flooded with cheap promotional reflectors without any kind of certification, which completely lack basic protection and give you a false sense of security. This also applies to reflectors sewn onto clothing. So check the reflector's quality before using it!
2. Place reflectors on moving parts
When you're out walking along roads and streets, it's important that your reflectors are placed in such a way that they can be hit by the beam from a car's headlights, which is then reflected back to the driver. Reflectors are always seen best on moving parts such as the arms and legs.
On country roads, high-beam headlights are sometimes used, which means that the light can be reflected wherever the reflector is placed on the body. However, on busy roads and streets where high-beam headlights are not used, it's best to place the reflector below waist height, where the light can reach you and be reflected back to the motorist. Multiple reflectors are also better than a single reflector. Placing them on the legs and arms also provides a moving effect, which further increases the chance of being seen.
Also, keep in mind that regular street lighting does not make you more visible to motorists, as reflectors only reflect light back into the direction it comes from, i.e. back up to the lamps of the street lights, which is not visible to motorists.
3. The more reflectors, the better
You should wear at least one reflector on each side, so one on the left and one on the right arm, and/or on both legs.
When it comes to hanging reflectors, you should have at least one on each side and a reflective band placed on both the left and right leg or arm. It is important to think about placing reflectors at 360 degrees, all around your body. In this way, you have an active reflector facing towards the motorist regardless of which way you turn.
4. Replace your old reflectors
A reflector can last for several seasons, depending on the quality. Therefore, it is important to evaluate whether your reflectors can still give you sufficient protection before each season.
You can often determine yourself whether you can see any changes in the material of your reflector by looking at it. The easiest way to test an old reflector is to compare it to a new one. Hang both reflectors up at eye-level in a dark room and shine a torch towards them from a distance a four metres. If the old reflector emits less light than the new one, it's time to replace it with a new reflector.
Bear in mind that reflectors/reflective material are fine, optical products, which you should treat and care for well. This way, you can maintain their protective optical effect longer and extend their lifetime.
Today, reflective material and reflective products are subjected to abrasion and various environmental tests as part of their quality assessment. This means that a reflector's certification is a guarantee of its long-term durability as well as its quality and brightness.